One priest will hear Confessions on Holy Saturday morning, 10 am - 11 am.; no afternoon Confessions on Holy Saturday.
Reminder: No morning Masses, of course, on Holy Thursday, Good Friday, and Holy Saturday.
Triduum Schedule: The summit of the Liturgical Year is the Easter Triduum—from the evening of Holy Thursday to the evening of Easter Sunday. Though chronologically three days, they are liturgically one day unfolding for us the unity of Christ's Paschal Mystery.
The single celebration of the Triduum marks the end of the Lenten season and leads to the Mass of the Resurrection of the Lord at the Easter Vigil. Attending the Easter Vigil, of course, satisfies your obligation to attend Easter Sunday Mass.
The liturgical services that take place during the Triduum are:
Holy Thursday, 7 pm Mass of the Lord's Supper
Good Friday of the Lord's Passion, 3 pm
Easter Vigil -- Mass of the Resurrection of the Lord, Saturday 8:30 pm
Easter Sunday Masses: 10 am & 12 Noon. (No 8 am Mass)
Good Friday is a day of fast and abstinence. Fasting means eating only one full meal with two smaller meals, which together do not equal the full meal. No snacks or eating between meals allowed. Fasting obliges all Catholics between the ages of 18 and 59. Abstinence means eating no meat, and no soup or gravy made from meat. Abstinence obliges all Catholic over the age of 14. Sickness, hard manual labor, pregnancy, etc. automatically excuse a person from these obligations. Nevertheless, it should be pointed out that these are serious obligations. In cases of doubt or question, the priest who hears a person's confession should be consulted.
The parish office will be closed in observance of Good Friday on April 19, 2019. We will reopen Monday, April 22, 2019 at the usual time of 9:30 a.m.
Here is the new Communion rail with the temporary (yes, temporary) kneeling pads. The custom pads will be installed in several weeks now that the exact measurements can be taken.
Gardiner Hall Associates, Inc.
11418 Rockville Pike, Suite 2206
North Bethesda, Maryland 20852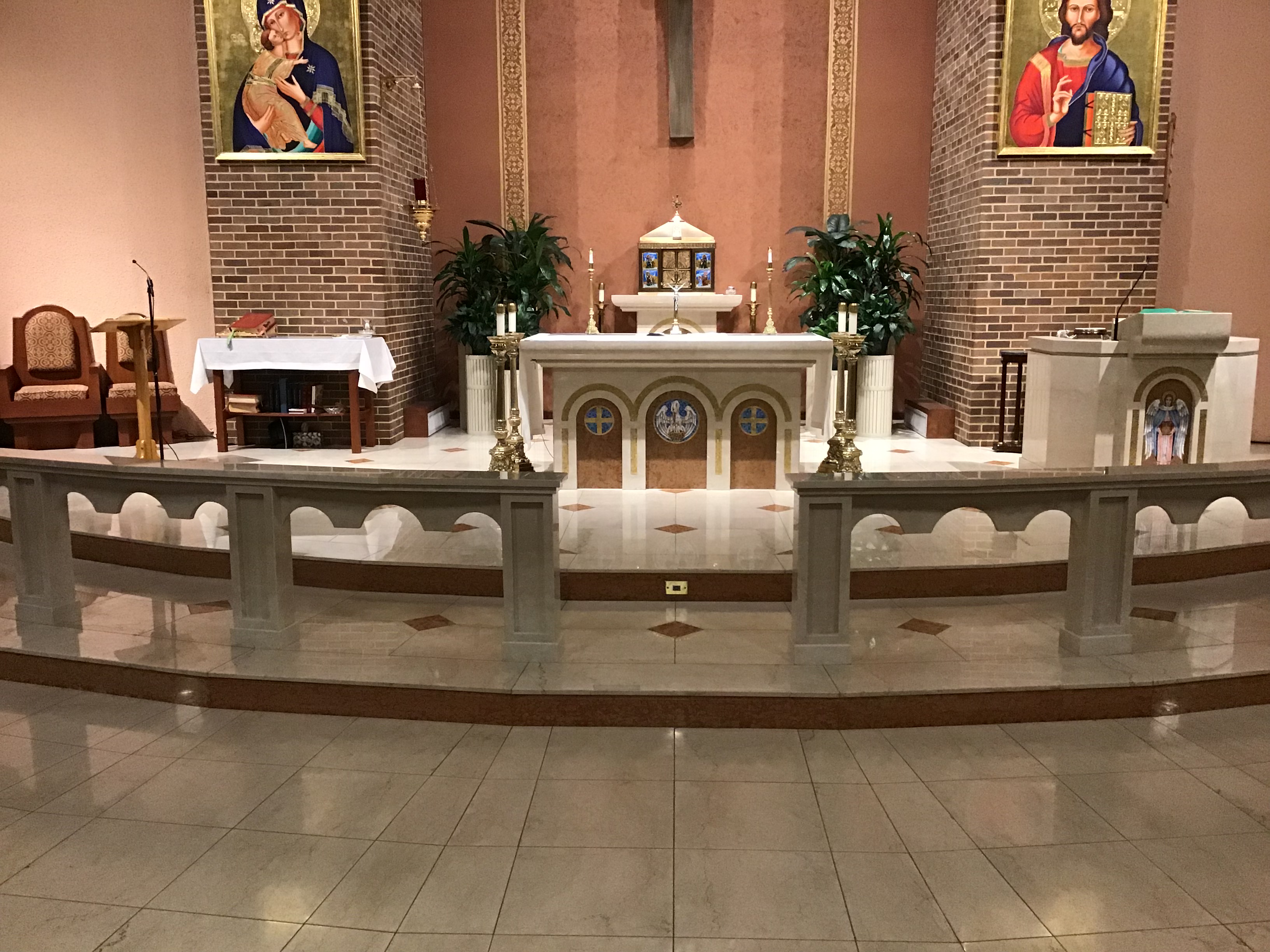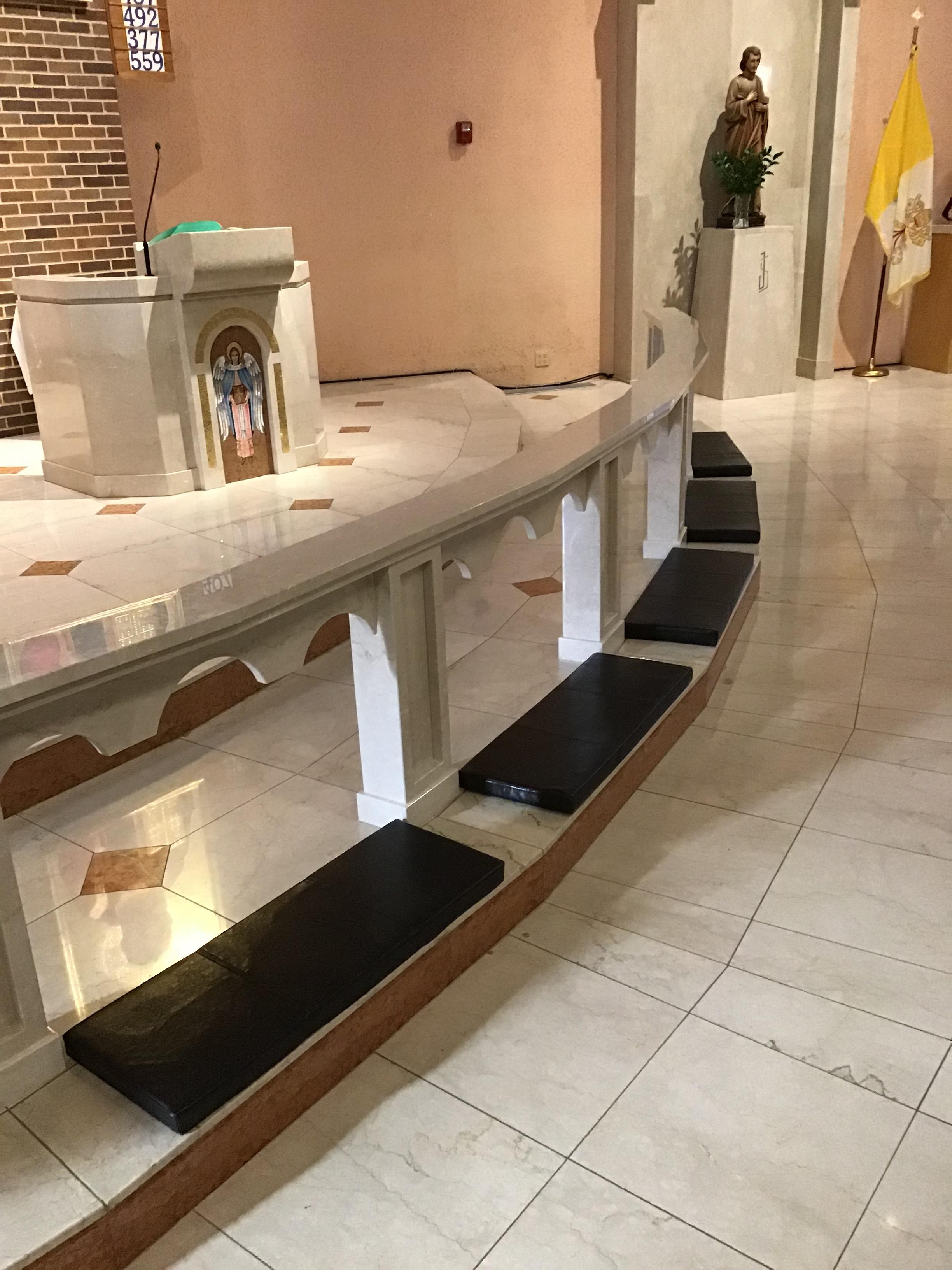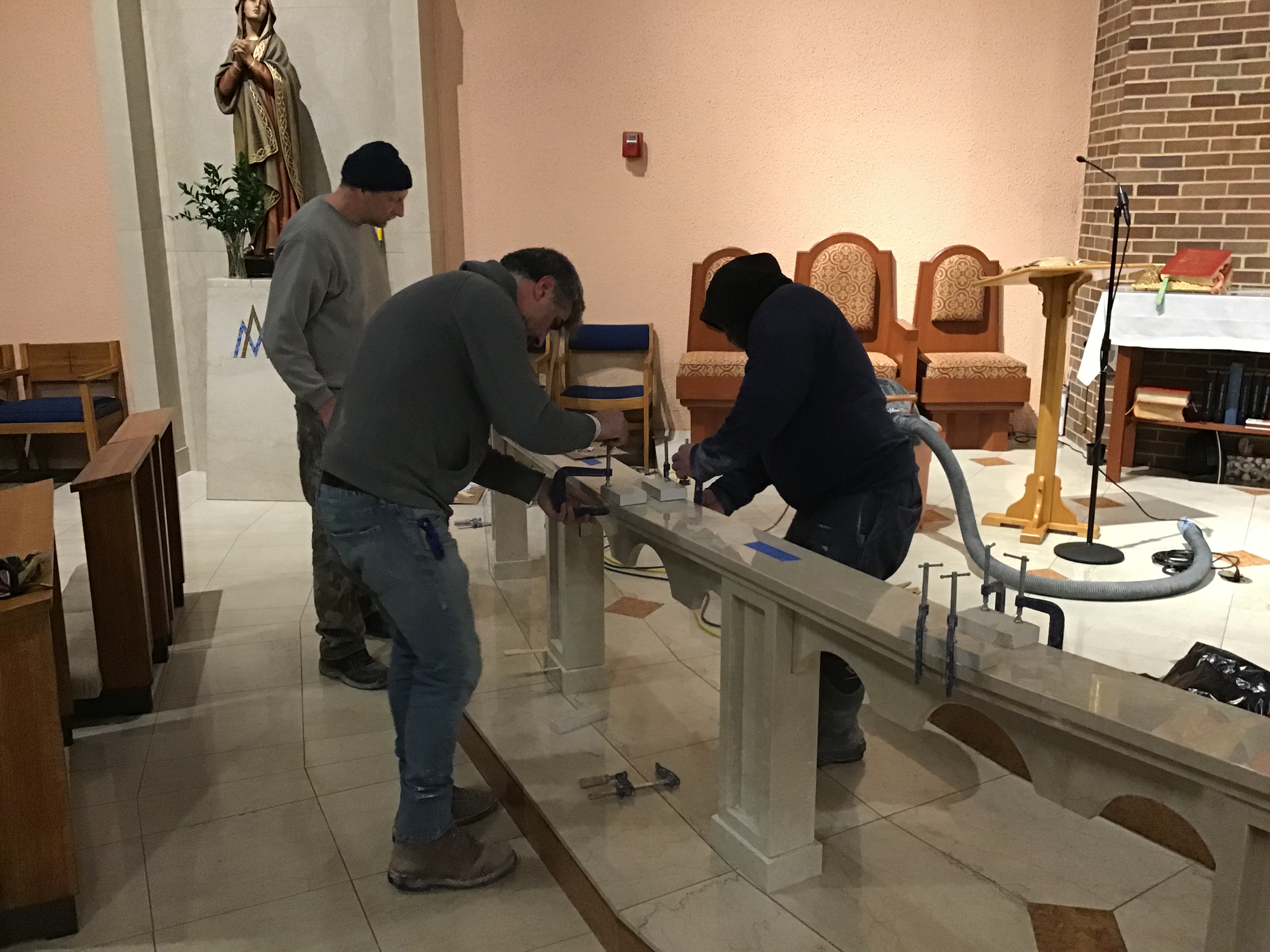 Action alert --
Tell Senators Warner and Kaine you strongly disapprove of their votes against the Born-Alive bill
Last night, the US Senate failed to pass the Born-Alive Abortion Survivors Protection Act (S. 311) on a vote of 53 to 44, with 3 senators not voting. In the Senate, 60 votes are needed to overcome a filibuster and pass a bill.
Let us be clear: S. 311 in no way restricted any woman's access to abortion, as abortion advocates claim. The bill was proposed to ensure basic medical and humanitarian care to any child who survives an abortion, a protection not sufficiently provided in federal law. Senators who voted against the bill did not stand up for "choice." Access to abortion was not at issue. Those senators have put themselves on public record as being indifferent to the pain, suffering and death of an infant who survives abortion. Please take a minute to write to Senators Warner and Kaine to express your strong disappointment in and disapproval of their votes against the Born Alive bill.
Virginia Bishops' Statement on U.S. Senate's Failure to Pass the Born-Alive Abortion Survivors Protection Act: This joint statement has been issued by Most Reverend Michael F. Burbidge, Bishop of Arlington, and Most Reverend Barry C. Knestout, Bishop of Richmond: "We are deeply dismayed and astounded that the U.S. Senate has failed to pass the Born-Alive Abortion Survivors Protection Act (S. 311). It is a matter of common sense and basic human decency to require, as S. 311 would have, that any health care practitioner present when a child is born alive following an abortion give the same degree of care to preserve the life and health of the child as would be given to any other newborn. That this bill did not pass unanimously – let alone pass at all – is appalling and beyond comprehension. We are dismayed and outraged that Virginia's U.S. Senators Warner and Kaine voted against this critical lifesaving legislation. We urge the Senate to reconsider its decision as soon as possible."
Bishop Antons Justs,
the retired bishop of Jelgava, Latvia, and a former priest of the Diocese of Arlington, died Feb. 17 at the age of 87
.Born
Nov. 22, 1931, he left Latvia with his family during World War II and began studying for the priesthood in 1949 in seminaries in Louvain, Belgium, and Innsbruck, Austria. He was ordained in 1960 in Belgium. In 1962, he was incardinated into the Diocese of Richmond, and served at Star of the Sea Church in Virginia Beach and St. Francis Church in Staunton, before being incardinated into the Diocese of Arlington in 1974
.He
served as
pastor of Blessed Sacrament Church in Alexandria and St. Catherine of Siena Church in Great Falls
, before being assigned to St. Mark Church in Vienna. In 1990, when he celebrated the 30th anniversary of his ordination to the priesthood, parishioners at St. Mark offered him a ticket to return to Latvia but at the time the country was still under Communist control. He finally returned to Latvia in 1991. "The people asked me to come back to teach in the seminary," Bishop Justs said. He accepted what he thought was a temporary assignment as a seminary professor in Riga, Latvia. He later was named seminary rector and in 1996 Pope John Paul II asked him to become bishop of the new Diocese of Jelgava. He
was ordained
a bishop Jan. 6, 1996, at St. Peter's Basilica in Rome by Pope John Paul II and installed in his new diocese March 25, 1996. He retired in 2011
.He
celebrated the 50th anniversary of his ordination to the priesthood in 2010. During his homily, Bishop Justs reflected on his early life in Latvia, where he received his first communion in 1940
.A
Communist agent arrested the Catholic priest who celebrated the First Communion Mass, Bishop Justs said. He remembered thinking to himself at the time, "Someone should take the priest's place." He never imagined it would be him."A funeral Mass was scheduled for Feb. 21 in the Cathedral of the Blessed Virgin Mary in Jelgava, with burial in Peace Cemetery.
The Beatitudes
have been one of the primary themes in the gospel readings for these final weeks of ordinary time before Lent begins. Visit the
Music Corner
to listen to a recording of The St. Catherine of Siena Choir singing Richard Proulx's arrangement of this text in the traditional chant melody from the Russian Orthodox tradition.
Our own Danielle Lussier of the Academy -- has one of her photographs posted by National Geographic. Check it out. Great pic. Good job, Danielle!
Bishop Antons Justs, first pastor of Saint Catherine Church, RIP
From the Vicar to the Clergy:
With sadness but with faith in our Lord's death and Resurrection, I write to inform you that Bishop Antons Justs passed away yesterday. Bishop Justs was ordained a priest for the Diocese of Richmond and then incardinated in the Diocese of Arlington. After the fall of the Soviet Union, he returned to his home country of Latvia and in 1996 was consecrated Bishop of Jelgava.
Please keep him in your prayers and remember him at the altar.
Eternal rest grant unto him, O Lord.
And let perpetual light shine upon him.
May he rest in peace.
More information when it comes available.
Bishop's Lenten Appeal -- is coming up. You may have received your pledge envelopes in the mail. Please make sure your check's memo includes the correct BLA ID number: 158 (Saint Catherine of Siena Church). This is important so that this Parish receives credit for your donation. (Most Rev Michael F. Burbidge, Catholic Diocese of Arlington, PO Box 1959, Merrifield, VA 22116-1959)
The disturbing photos in Governor Northam's medical school yearbook might have been dismissed as the stupidities of youth. But youthful indiscretions are either immature lapses of judgment, or character flaws that extend into adulthood. The Governor's continuing disregard for the humanity of unborn life and his political comments in favor of infanticide suggest his youthful indiscretions are based on a malignant view of human beings. The Governor has renounced his behavior as a young man. Good for him. (Although, as he parses his words, he seems more concerned with the "legacy" than the act itself. "Legacy" = he got caught.) We await the renunciation of his abortion advocacy today to reclaim his integrity as a politician and as a man. Every human being from the moment of conception is created in the image and likeness of God with an inestimable dignity.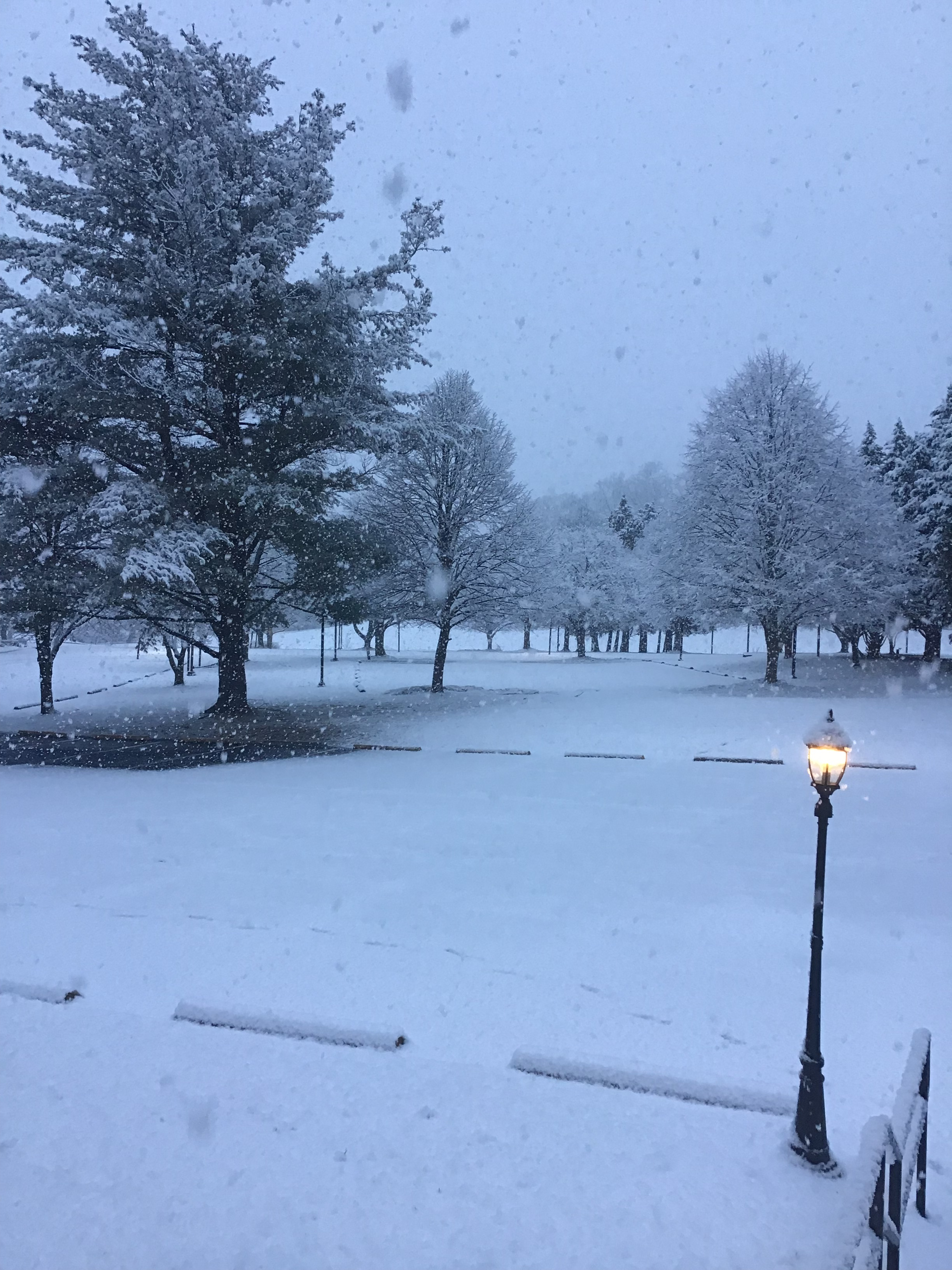 Melt during the day; freeze at night; beware of slippery spots.
The evening of Sunday, 01.13.19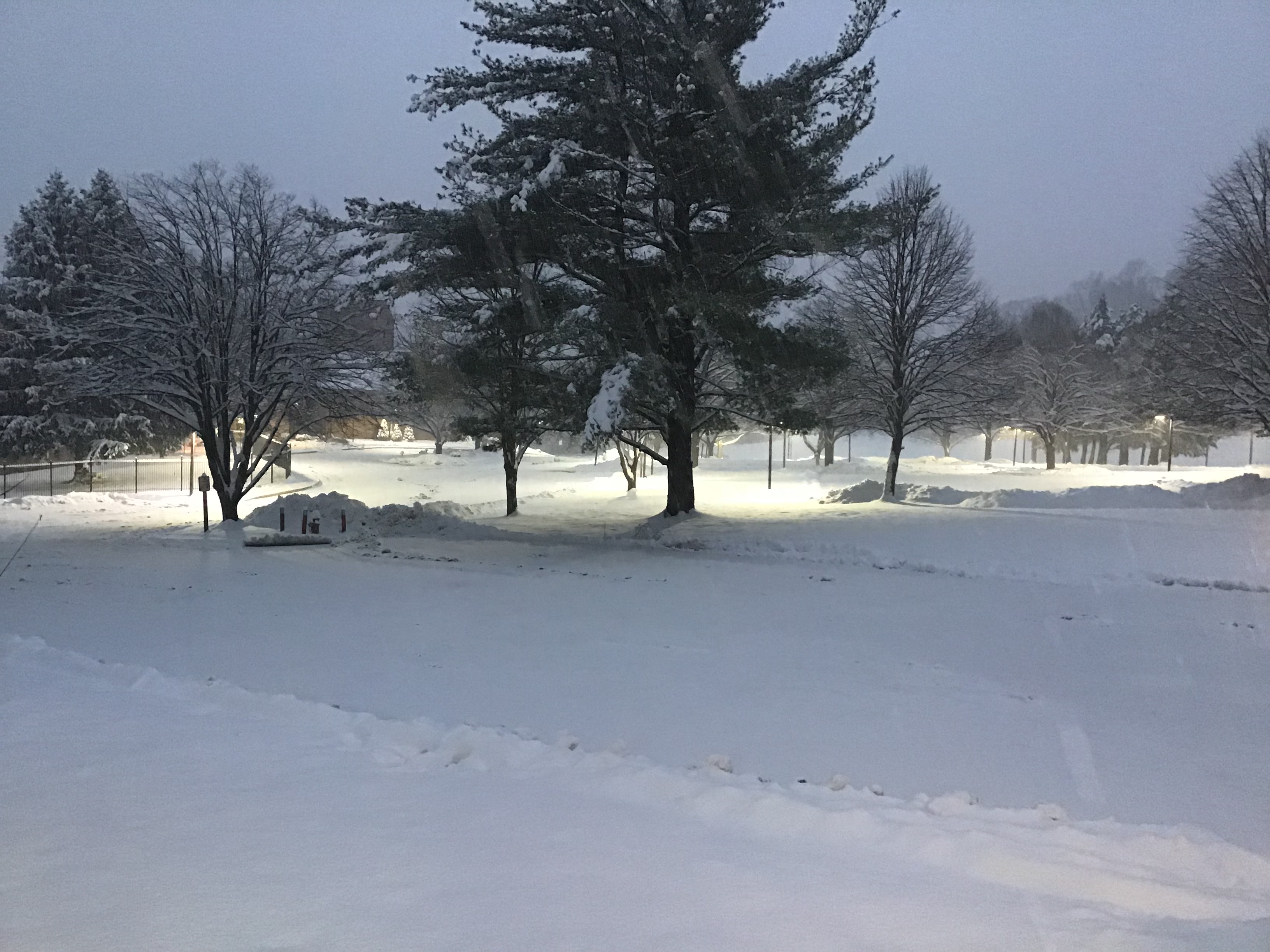 Bad winter weather notice: Before coming to the church, please check this site when there is bad winter weather. Do not venture out on icy roads. If cones are in place blocking the entrance, do not enter. Safety first. Canceled Mass intentions will be rescheduled.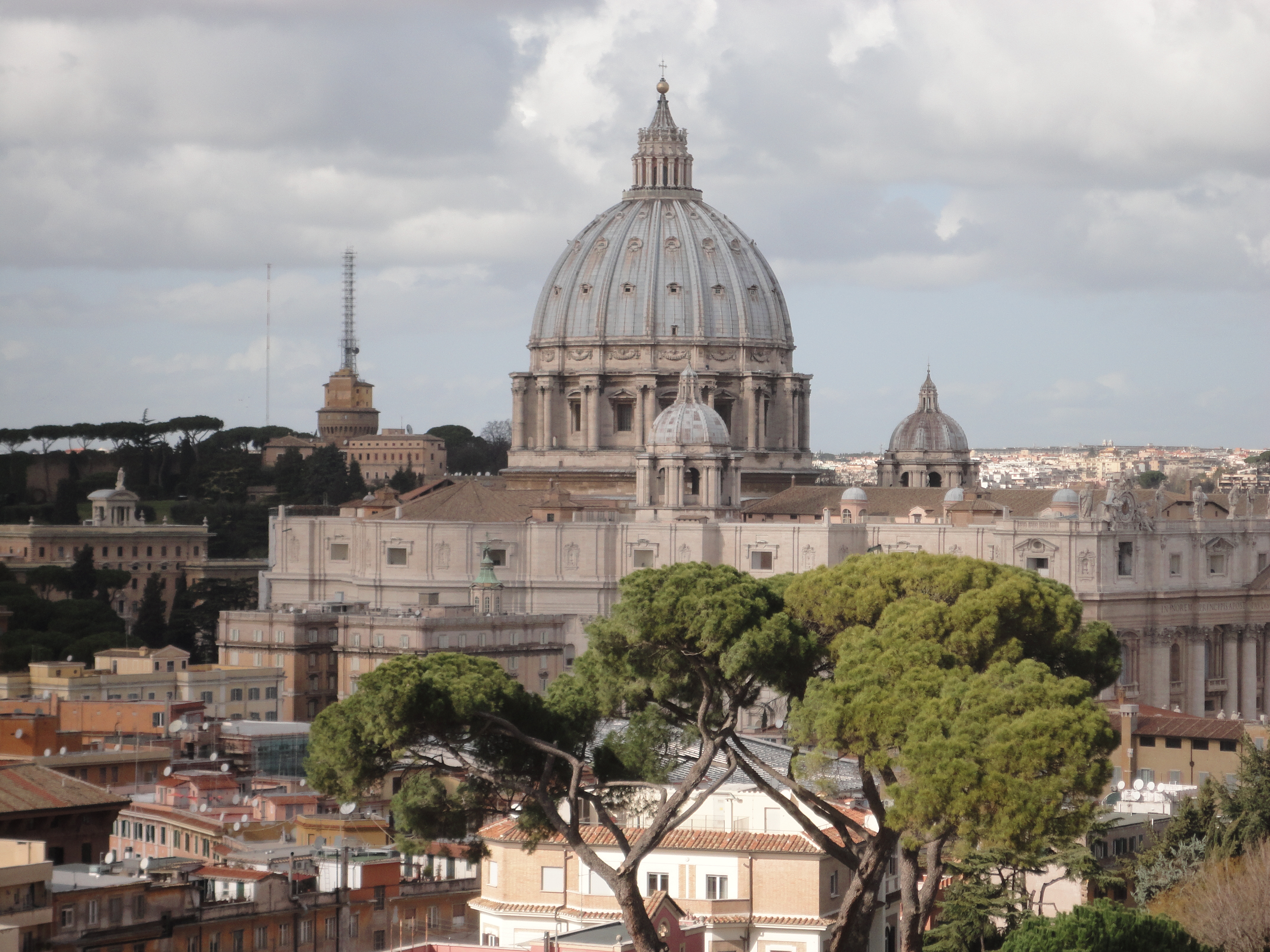 Link to Pastor's "private" website (some essays on his blog):
Here is a link to the Pastor's personal website for parishioners and friends. It is still under construction. Amateur hour, but better than nothing! http://pastorcorner.wixsite.com/poko/blog