Updated 6.6.23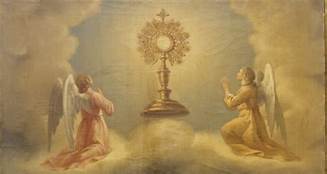 The Feast of Corpus Christi (Feast of the Body and Blood of Our Lord) will be celebrated on June 11, 2023. After the noon Mass our parish family, with the First Communicants, will join together in solemn procession.
All First Communicants are asked to wear their First Holy Communion attire to Mass on this day and participate in the solemn procession.
This is an optional ceremony, but we highly encourage all the First Communicants to participate in this celebration of our Lord's Body and Blood. More details will follow as the date gets closer.
---
The Parish office will be closed Friday, June 9th. We will reopen at the usual time of 9:30 am on Monday, June 12th.
---
SCAM EMAIL ALERT -- WE HAVE ANOTHER ROUND OF SCAM EMAILS. THE LATEST IS FROM "OFFICEEMAILSSS001@GMAIL.COM". THE SCAMMERS ASK FOR GIFT CARDS. WE NEVER ASK FOR ANYTHING FUNDS OR GIFT CARDS BY EMAIL. PLEASE DELETE!
A bad guy dummied up a phony email from the Pastor. Beware!
PASTOR'S HOMILETIC ESSAYS AND COMMENTARY
[Here]
Recent essays:
How the Threat of Damnation Protects the Doctrine of Natural Law
[10.17.22] God created us in His image and likeness, and after the Fall, the Cross, and the Resurrection, we overcome evil with God's grace by following the precepts of the law written on our hearts. Scholars and theologians reasonably consider our natural inclinations and codify them into a natural-law system. But natural law collapses without the light of God's Revelation.
[Read more]
Propaganda and the Ukraine Ware [10.16.22]
The meaning of propaganda has evolved from simple advertising to promoting biased and misleading information. The art of gleaning facts from various propaganda outlets has become increasingly difficult.
[Read more]
Reason without the Search for Faith is Insanity [10.04.22] Faith is reasonable but ultimately beyond the reach of human reason. Faith is a supernatural virtue helping us by grace to accept Revelation because of the authority of God Himself, Who can neither deceive nor be deceived (cf. Vatican I, 3.2) Many suggest that the elimination of faith liberates human reason to overcome personal and social problems, unencumbered by religious superstition. [Read more]