Gentlemen, interested in becoming a Knight? Click here and register. Someone will contact you.
Have a question? Contact the Knights and we'll get back to you. Click here.
If ready to become a Knight, scan the QR code (on our material at the church Narthex bulletin board) with your iPhone/PDF device to be directed to the State Council webpage. Click the "Join the Knights" and fill out the several successive screens. Indicate your Parish as "St. Catherine of Siena" and your Council as "10754" so your application will come to our Council. Someone will then reach out to you very quickly.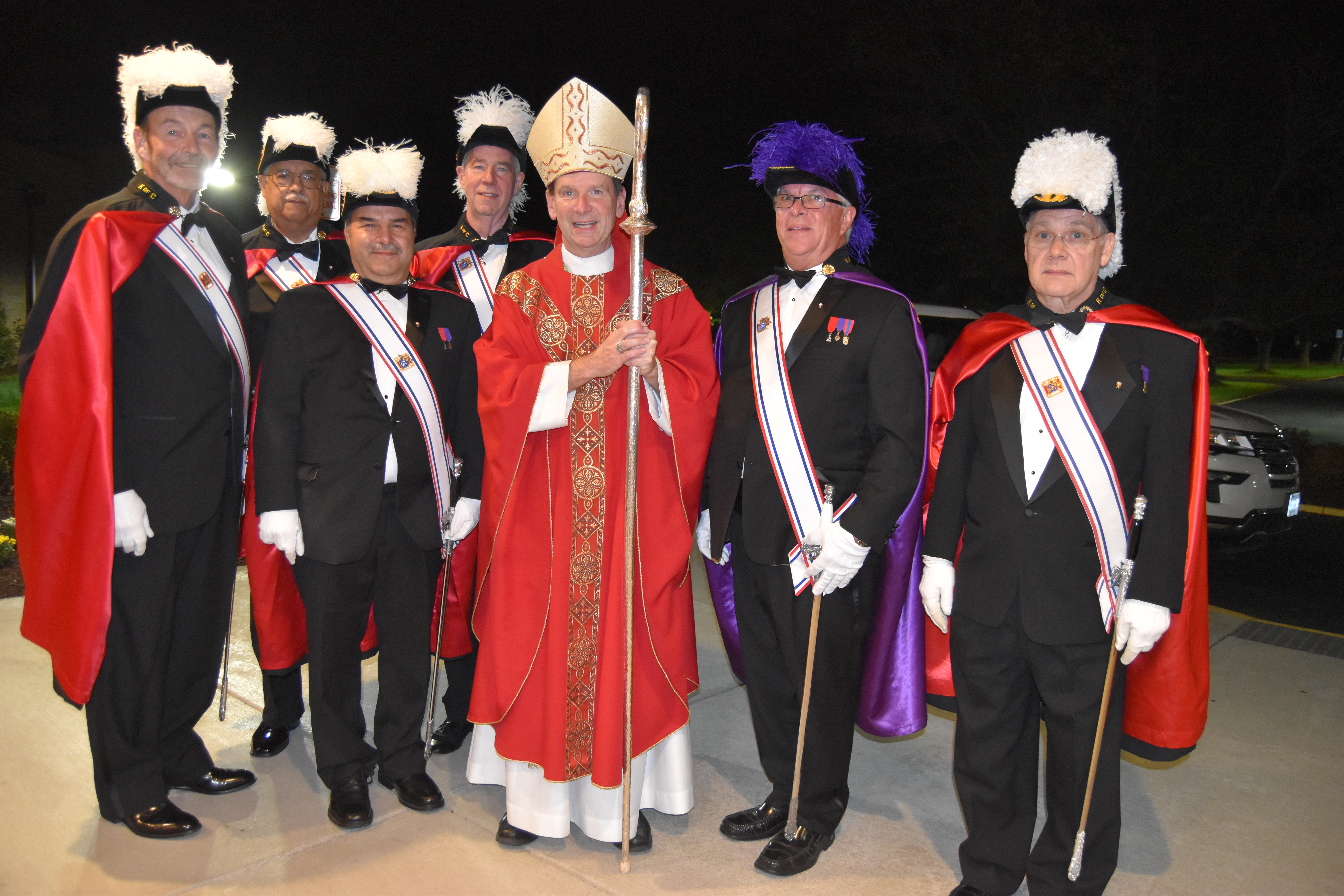 Padre Pio Council #10754
Padre Pio Council #10754 is one of approximately 16,000 local councils of the Knights of Columbus around the world. Chartered in November 1991, we serve the Roman Catholic parish of St. Catherine of Siena, which is located at 1020 Springvale Road in Great Falls, Virginia. We typically meet at 7:30 p.m. on the first and third Tuesdays of each month at either Padre Pio Hall or Bishop Justs Hall; members are encouraged to arrive at 7:15 p.m. to pray the Rosary. We are part of the 31st District of the Virginia State Council of the Knights of Columbus, and our Fourth Degree members are part of St. Elizabeth Bayley Seton Assembly 1781, which meets monthly at St. Joseph Catholic Church in Herndon, Virginia.
Council activities include monthly Pancake Breakfasts hosted after the 8am and 10am Sunday masses at Bishop Justs Hall (except the summer months of June, July and August); Lenten Fish Dinners hosted each Friday evening during Lent (except Good Friday), one hour prior to Stations of the Cross; our annual Christmas Tree sale, which raises money for our charitable activities; Religiously themed Christmas Card sales, part of our Keep Christ in Christmas campaign; and various social and parish activities sponsored by the Council throughout the year.
Through the Knights' four core principles of charity, unity, fraternity, and patriotism, we endeavor to serve our pastor, parish, community, and nation. To learn more about the Knights please reach out to our Grand Knight, Ernie Piro, at 703.395.3723, HowToBecomeAKnight@yahoo.com, or via Facebook @KoC10754PadrePio).
HOW TO BECOME A KNIGHT?
Note: This process is designed for non-members to join the Knights AS WELL AS for Current First Degree or Second Degree Knights to become Third Degree Knights.
Now, there are several alternative ways to become a Knight and each method is so simple (just 30 minutes of your time) despite COVID-19.
Attend a local in-person ceremony (also, contact the Grand Knight, see his contact info, below in advance). The next in-person ceremonial will be:


Tuesday September 28, 2021, at 7:15pm, in our church followed by light reception in Bishop Justs Hall.

Attend a virtual ceremonial through the VA State Council via Windstream (must log in by 6:45pm for 7:00pm event):
Attend an "On Demand" session via the KoC Supreme Council (available in English, Spanish, and French) over the internet and pay the nominal entry fee (waived by typing promo code: MCGIVNEY2020). On Demand Registration Link: https://www.kofc.org/secure/en/join/join-the-knights.html
When signing up for online option #2 or 3, indicate Parish as "St. Catherine of Siena" and Council as "10754" and once done with the ceremony contact Grand Knight Ernie Piro at HowToBecomeAKnight@yahoo.com or 703.395.3723 so we can follow up to process you as a member of our Council.
If you are NOT from the Northern Virginia area (i.e., visiting) and wish to be transferred to a Council closer to home, we will help you with the transfer process, although we always prefer Knights staying with our Council.
NEED LIFE INSURANCE? Consider purchasing through the Knights of Columbus. Contact Max Abbate, FIC (#17967), and his team (Jacqui and Shawn) at 757-495-1492 or via email at ABBATEAGENCYMAIL@KOFC.ORG
FREE SEMINARS: Our Council will be hosting several FREE seminar presentations via the ZOOM virtual platform. Brother Knights and all other parishioners are cordially invited. RSVP is required.
OTHER UPCOMING EVENTS/ACTIVITIES:
PANCAKE BREAKFAST: Come join us for pancakes, eggs, bacon and other delights on Sunday, September 12, 2021 after the 8am and 10am Masses. We also need Brother Knights to volunteer for this event.
SOCCER CHALLENGE:
Our Council cordially invites all children aged 14 and under to participate in our annual soccer challenge taking place at Christ the Redeemer Church in Sterling on the afternoons of Friday, September 17 and Sunday, September 19. Boys and girls will compete by age (children under 9 will compete with the 9 year olds) with each competitor taking 15 penalty kicks. Also participating are children from Our Lady of Hope and Christ the Redeemer. Parents or guardians are asked to stay with their
young kickers. Grab a flyer from the Knights' bulletin board in the Narthex.
ANNUAL CHURCH BBQ/PICNIC: Bring the family out for our annual outdoor BBQ on Sunday, October 3, 2021 after the 8am and 10am Masses. We also need Brother Knights to volunteer for this event.
Monthly Peaceful Rosary Prayer Service for the unborn at the local Falls Church abortion business at 7:30AM on the last Saturday of each month. Next event is September 25, 2021.
Eucharist Miracles of the World Exhibit: October 22nd thru Sunday, October 24th from 9am until 8pm. We will be sponsoring a three day exhibit on the Eucharist Miracles of the World at Bishop Justs Hall of St. Catherine of Siena Church in Great Falls, VA. This road show exhibit was developed and is presented by Dr. Bill Ryckman, a Third Degree Knight of Council 3444, and his wife, Mary. It showcases the learned research and extensive documentation performed by Blessed Carlo Aticus, who spent his limited time on Earth (passing away in 2006 at the tender age of 15) investigating and documenting the True Presence in the Holy Eucharist (the core essence of Catholicism) throughout the world.
Keep Praying for the Canonization of Father Michael J. McGivney, founder of the Knights of Columbus in 1882, who was beatified by proclamation of Pope Francis on October 31, 2020.
September 2021 Knight of the Month: Brother Vince Dory
September 2021 Knights Family of the Month: Vic & Wendy Sellier
Congratulations to Padre Pio Council 10754 on the following Supreme and State Awards:
- 2020-21 Star Council Award (the highest award issued by our Supreme Council) for Excellence.
- 2020-21 Supreme's Founders Award for our Council's successful advocacy of protecting widows and orphans.
- 2020-21 Supreme's Columbian Award for our Council's successful Program Activities.
- 2020-21 Virginia State Deputy Award for Attaining all state-set goals and showcasing the accomplishments and activities of our Knights and other parishioners
- 2020-21 Virginia State Council's Outstanding Life Activity Award for 2020-21. This prestigious honor reflects our State Council's appreciation of our local Council's fundraising of $19,500 (in partnership with BakhitaKids and Council 2010 in Thomas, West Virginia) for the purchase and placement of a life saving 2D mobile ultrasound machine in an otherwise underserved and remote part of West Virginia. This device will allow mothers and fathers to see God's greatest creation, their unborn babies, as they make their nine month journey to birth outside the womb.
OUR NEXT BUSINESS MEETING (OPEN ONLY TO KNIGHTS IN GOOD STANDING) WILL BE A HYBRID VIRTUAL VIA ZOOM/IN-PERSON MEETING ON TUESDAY, OCTOBER 5, 2021 AT 7:30PM.
OUR NEXT SOCIAL MEETING (OPEN TO KNIGHTS AND ALL OTHERS) WILL BE A HYBRID VIRTUAL VIA ZOOM/IN-PERSON MEETING ON TUESDAY, SEPTEMBER 21, 2021 AT 7:30PM.
OUR NEXT FOURTH DEGREE ASSEMBLY MEETING (OPEN ONLY TO SIR KNIGHTS IN GOOD STANDING) WILL BE A WILL BE A HYBRID VIRTUAL VIA ZOOM/IN-PERSON (AT CHRIST THE REDEEMER CHURCH) MEETING ON WEDNESDAY, SEPTEMBER 15, 2021 AT 7:30PM
P.S.: check us out on Facebook at @KoC10754PadrePio