Gentlemen, interested in becoming a Knight? Click here and register. Someone will contact you.
Have a question? Contact the Knights and we'll get back to you. Click here.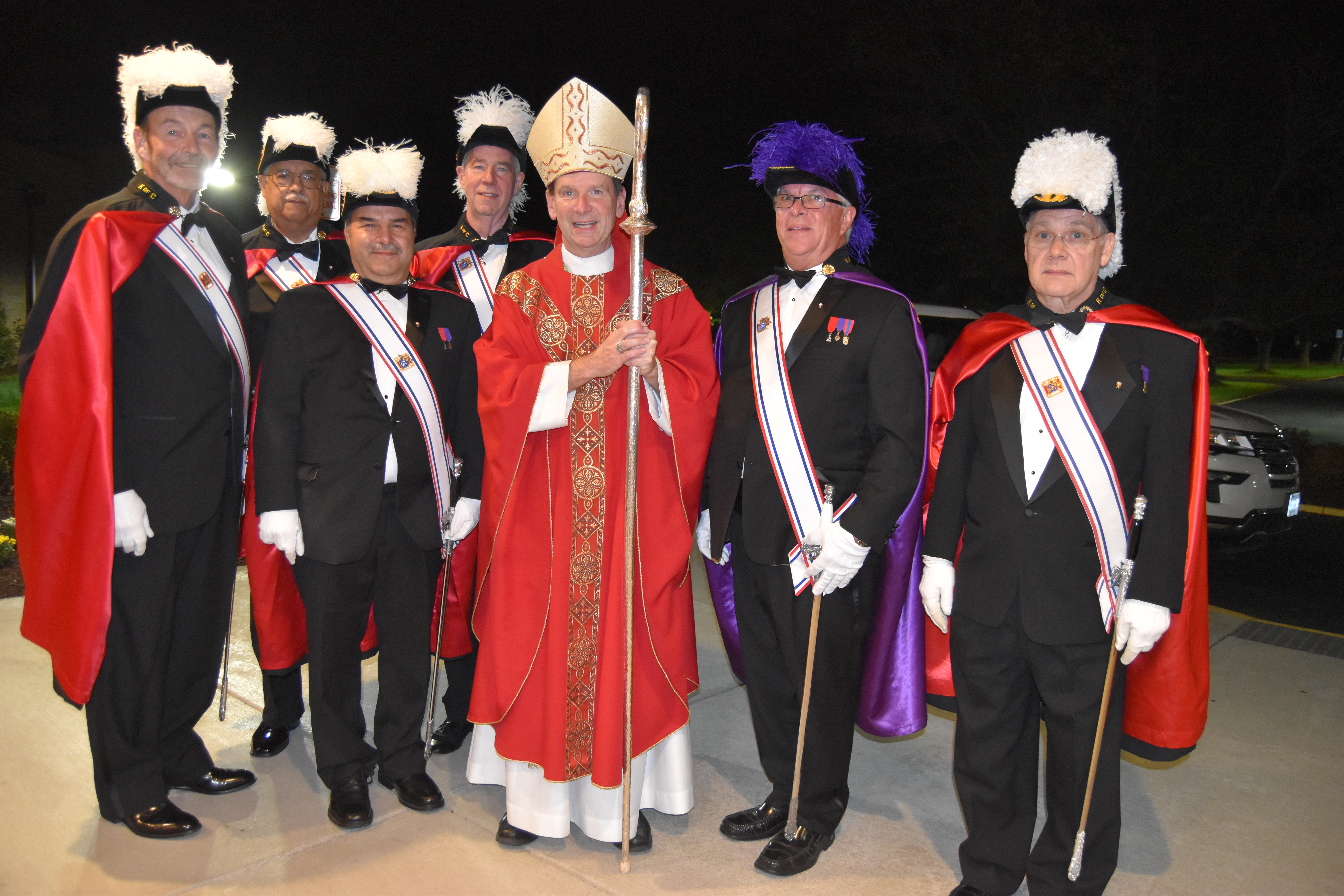 Padre Pio Council #10754
Padre Pio Council #10754 is one of approximately 16,000 local councils of the Knights of Columbus around the world. Chartered in November 1991, we serve the Roman Catholic parish of St. Catherine of Siena, which is located at 1020 Springvale Road in Great Falls, Virginia. We typically meet at 7:30 p.m. on the first and third Tuesdays of each month at either Padre Pio Hall or Bishop Justs Hall; members are encouraged to arrive at 7:15 p.m. to pray the Rosary. We are part of the 31st District of the Virginia State Council of the Knights of Columbus, and our Fourth Degree members are part of St. Elizabeth Bayley Seton Assembly 1781, which meets monthly at St. Joseph Catholic Church in Herndon, Virginia.
Council activities include monthly Pancake Breakfasts hosted after the 8am and 10am Sunday masses at Bishop Justs Hall (except the summer months of June, July and August); Lenten Fish Dinners hosted each Friday evening during Lent (except Good Friday), one hour prior to Stations of the Cross; our annual Christmas Tree sale, which raises money for our charitable activities; Religiously themed Christmas Card sales, part of our Keep Christ in Christmas campaign; and various social and parish activities sponsored by the Council throughout the year.
Through the Knights' four core principles of charity, unity, fraternity, and patriotism, we endeavor to serve our pastor, parish, community, and nation. To learn more about the Knights please reach out to our Grand Knight, Ernie Piro, at 703.395.3723, HowToBecomeAKnight@yahoo.com, or via Facebook @KoC10754PadrePio).
HOW TO BECOME A KNIGHT?
Note: This process is designed for non-members to join the Knights AS WELL AS for Current First Degree or Second Degree Knights to become Third Degree Knights.
Now, there are several alternative ways to become a Knight and each method is so simple (just 30 minutes of your time) despite COVID-19.
Attend a local in-person ceremony (also, contact the Grand Knight, see his contact info, below in advance). The next in-person ceremonial will be:


Tuesday July 13, 2021, at 7:00pm, at Bishop Justs Hall.

Attend a virtual ceremonial through the VA State Council via Windstream (must log in by 6:45pm for 7:00pm event):
Attend an "On Demand" session via the KoC Supreme Council (available in English, Spanish, and French) over the internet and pay the nominal entry fee (waived by typing promo code: MCGIVNEY2020). On Demand Registration Link: https://www.kofc.org/secure/en/join/join-the-knights.html
When signing up for online option #2 or 3, indicate Parish as "St. Catherine of Siena" and Council as "10754" and once done with the ceremony contact Grand Knight Ernie Piro at HowToBecomeAKnight@yahoo.com or 703.395.3723 so we can follow up to process you as a member of our Council.
If you are NOT from the Northern Virginia area (i.e., visiting) and wish to be transferred to a Council closer to home, we will help you with the transfer process, although we always prefer Knights staying with our Council.
NEED LIFE INSURANCE? Consider purchasing through the Knights of Columbus. Contact Max Abbate, FIC (#17967), and his team (Jacqui and Shawn) at 757-495-1492 or via email at ABBATEAGENCYMAIL@KOFC.ORG
FREE SEMINARS: Our Council will be hosting several FREE seminar presentations via the ZOOM virtual platform. Brother Knights and all other parishioners are cordially invited. RSVP is required.
OTHER UPCOMING EVENTS/ACTIVITIES:
Officer Installation: On Saturday, June 15, 2021, after the 5:30pm Vigil Mass, the Knights will be installing the new leadership team serving for 2021-22.
Monthly Peaceful Rosary Prayer Service
for the unborn at the local Falls Church abortion business at 7:30AM on the last Saturday of each month. Next event is June 26, 2021.
Keep Praying for the Canonization of Father Michael J. McGivney, founder of the Knights of Columbus in 1882, who was beatified by proclamation of Pope Francis on October 31, 2020.
May 2021 Knight of the Month: Brother Sir Knight Tony DeBenedittis.
May 2021 Knights Family of the Month: Brother Knight James Edward Hanlon & Family.
2020-21 Knight of the Year: PGK Paul Bernier.
2020-21 Family of the Year: PGK David & Kim Livaudais.
2020-21 Young Man of the Year: Brother Knight William White.
2020-21 Young Woman of the Year: Kateri Castillo.
Scholarship Winners:
Lt. Colonel Thomas "Bull" Budrejko scholarship award: Congratulations to Brother William White, son of Brother Paul White and wife Meg White, on being named this year's winner of the Lt. Colonel Thomas "Bull" Budrejko scholarship award. Thomas Budrejko was killed while serving his country and was the son of fellow parishioners SK Donald and Mary Budrejko. Since the formation of this scholarship program shortly after his tragic death, college bound students have benefitted from grants that reduce the tuition burdens imposed upon them and their military families.
Father Michael J. Bader scholarship award: Congratulations to Brother William White, son of Brother Paul White and wife Meg White; Elizabeth Sypal, daughter of Brother Ken Sypal and wife Jennifer Sypal; and Kateri Castillo, daughter of Brother Alvin Castillo and wife Chrissy Castillo on being awarded Father Bader scholarships by the Virginia State Council of the Knights of Columbus.
Elizabeth Bayley Seton scholarship award: Knights of Columbus Padre Pio Council 10754 is proud to announce that this year's recipient of the Elizabeth Bayley Seton scholarship, as awarded by the Elizabeth Bayley Seton Assembly (#1781) of the Knights of Columbus (consisting of seven parishes including St. Catherine of Siena Church), is Elizabeth Sypal of our parish.
Congratulations to Padre Pio Council 10754 on the following Supreme and State Awards:
- 2020-21 Supreme's Founders Award for our Council's successful advocacy of protecting widows and orphans.
- 2020-21 Supreme's Columbian Award for our Council's successful Program Activities.
- 2020-21 Virginia State Deputy Award for Attaining all state-set goals and showcasing the accomplishments and activities of our Knights and other parishioners
- 2020-21 Virginia State Council's Outstanding Life Activity Award for 2020-21. This prestigious honor reflects our State Council's appreciation of our local Council's fundraising of $19,500 (in partnership with BakhitaKids and Council 2010 in Thomas, West Virginia) for the purchase and placement of a life saving 2D mobile ultrasound machine in an otherwise underserved and remote part of West Virginia. This device will allow mothers and fathers to see God's greatest creation, their unborn babies, as they make their nine month journey to birth outside the womb.
OUR NEXT BUSINESS MEETING (OPEN ONLY TO KNIGHTS IN GOOD STANDING) WILL BE A HYBRID VIRTUAL VIA ZOOM/IN-PERSON MEETING ON TUESDAY, JULY 6, 2021 AT 7:30PM.
OUR NEXT SOCIAL MEETING (OPEN TO KNIGHTS AND ALL OTHERS) WILL BE A WILL BE A HYBRID VIRTUAL VIA ZOOM/IN-PERSON MEETING ON TUESDAY, JUNE 15, 2021 AT 7:30PM
OUR NEXT FOURTH DEGREE ASSEMBLY MEETING (OPEN ONLY TO SIR KNIGHTS IN GOOD STANDING) WILL BE A WILL BE A HYBRID VIRTUAL VIA ZOOM/IN-PERSON MEETING ON WEDNESDAY, JUNE 16, 2021 AT 7:30PM
P.S.: check us out on Facebook at @KoC10754PadrePio