Gentlemen, interested in becoming a Knight? Click here and register. Someone will contact you.
Have a question? Contact the Knights and we'll get back to you. Click here.
If ready to become a Knight, scan the QR code (on our material at the church Narthex bulletin board) with your iPhone/PDF device to be directed to the State Council webpage. Click the "Join the Knights" and fill out the several successive screens. Indicate your Parish as "St. Catherine of Siena" and your Council as "10754" so your application will come to our Council. Someone will then reach out to you very quickly.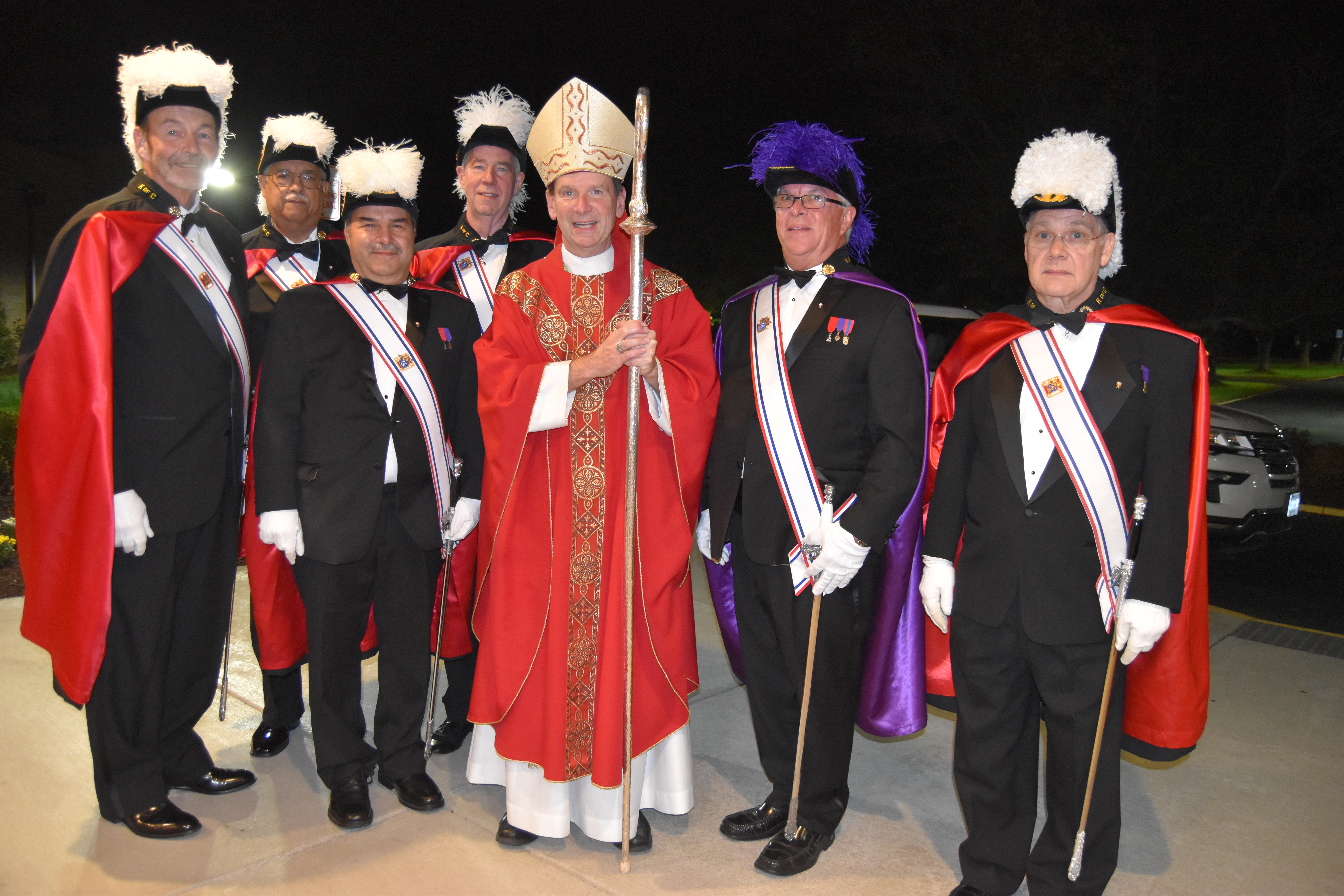 Padre Pio Council #10754
Padre Pio Council #10754 is one of approximately 16,000 local councils of the Knights of Columbus around the world. Chartered in November 1991, we serve the Roman Catholic parish of St. Catherine of Siena, which is located at 1020 Springvale Road in Great Falls, Virginia. We typically meet at 7:30 p.m. on the first and third Tuesdays of each month at Padre Pio Hall; members are encouraged to arrive at 7:15 p.m. to pray the Rosary. We are part of the 31st District of the Virginia State Council of the Knights of Columbus, and our Fourth Degree members are part of St. Elizabeth Bayley Seton Assembly 1781, which meets monthly at Christ the Redeemer Church in Sterling, Virginia.
Council activities include monthly Pancake Breakfasts hosted after the 8am and 10am Sunday masses at Bishop Justs Hall (except the summer months); Lenten Fish Dinners hosted each Friday evening during Lent (except Good Friday), one hour prior to Stations of the Cross; our annual Christmas Tree sale, which raises money for our charitable activities; Religiously themed Christmas Card sales, part of our Keep Christ in Christmas campaign; Youth activites like scholarships, Free Throw Championship, Soccer Challenge, KCIC Poster Contest, and various social and parish activities sponsored by the Council throughout the year. We are also affiliated with various college scholarship programs that are available to family members of our members.
Through the Knights' four core principles of charity, unity, fraternity, and patriotism, we endeavor to serve our pastor, parish, community, and nation. To learn more about the Knights please reach out to our Grand Knight, Ernie Piro, at 703.395.3723, HowToBecomeAKnight@yahoo.com, or via Facebook @KoC10754PadrePio).
HOW TO BECOME A KNIGHT?
Note: This process is designed for non-members to join the Knights AS WELL AS for Current First Degree or Second Degree Knights to become Third Degree Knights.
Step #1: Apply online to become a Knight. Use this link https://www.kofc.org/secure/en/join/join-the-knights.html (and indicate Parish: "St. Catherine of Siena" and Council: "10754"). Special code: MABBATE waives $30 fee.
Step #2: Attend a 30-minute ceremony. There are several alternative ways to become a Knight and each method is so simple (just 30 minutes of your time). Family members are invited and encouraged to witness this event.
Attend a local in-person ceremony (also, contact the Grand Knight, see his contact info, below in advance). The next in-person ceremonial will be:


Tuesday, July 19, 2022 at 7:15pm in our church followed by a light reception at Bishop Justs Hall.

Attend a virtual ceremonial through the VA State Council via Windstream:
When registering online, indicate Parish as "St. Catherine of Siena" and Council as "10754" and once done with the ceremony contact us at HowToBecomeAKnight@yahoo.com so we can follow up to process you as a member of our Council.
If you are NOT from the Northern Virginia area (i.e., visiting) and wish to be transferred to a Council closer to home, we will help you with the transfer process, although we always prefer Knights staying with our Council.
KoC FOURTH (4TH) DEGREE: If you are a current Third Degree Knight that may be interested in advancing to the Fourth Degree, which is dedicated to the principle of Patriotism, please contact Faithful Captain Ernest Piro via (HowToBecomeAKnight@yahoo.com) or Faithful Navigator John Silvi (johnsilvi09@gmail.com) of Elizabeth Bayley Seton Assembly 1781 (both members of our parish and council) for details and to complete a simple half page admissions form. The next statewide semi-annual Fourth Degree Ceremonial is anticipated to be held in late October in Northern Virginia.
NEED LIFE INSURANCE? Consider purchasing through the Knights of Columbus. Contact Max Abbate, FIC (#17967), and his team (Jacqui and Shawn) at 757-495-1492 or via email at MAX.ABBATE@KOFC.ORG
FREE SEMINARS:
Save the Date: In September 2022, the Knights are anticipating hosting its next Fraternal Business Night in Bishop Justs Hall. Details to follow.
OTHER UPCOMING EVENTS/ACTIVITIES:
MONTHLY PEACEFUL ROSARY PRAYER SERVICE
for the unborn at the local Falls Church abortion business at 7:30AM on the
FIRST
(no longer the last) Saturday of each month. Next rosary prayer service will be August 6, 2022.
MONTHLY PANCAKE BREAKFAST:
Our next pancake breakfast will take place on Sunday, September 9th after the 8am and 10am Masses. Monetary donations are requested.
To volunteer for this event, contact us at
PadrePioKnightsActivities@yahoo.com
ANNUAL PARISH PICNIC: Save the date and bring the entire family out on Sunday, September 23rd for the annual Parish Picnic. Details to be announced later this summer.

LIVING ROSARY FOR THE UNBORN: On Friday, October 7th (Feast of the holy Rosary), starting at 6:30pm and taking place on the church great lawn, the Knights, Siena Academy, and CCD will be co-hosting its annual outdoor rosary (weather permitting) with the entire St. Catherine of Siena parish community. This is intended as a family event with the children taking the lead in prayer. If weather conditions prohibit the outdoor event, the Rosary will be held indoors in the parish hall. Afterwards, the Knights of Columbus will be providing pizza and drinks in the parish hall. Parents are encouraged to attend and participate with their entire family. Children who would like to stay for the pizza celebration afterwards MUST be accompanied by a parent or guardian. Each family will recite one prayer of the rosary so we will need approximately 60 families. Our Signup Genius hyperlink: has not opened up yet (a hyperlink will also appear on the Knights Apotolate page on church website). If you have any questions, contact PadrePioKnightsActivities@yahoo.com.
KOVAR FUNDRAISING: Please support those individuals with intellectual disabilities by donating to KOVAR, a Virginia IRC Section 501(c)(3). The Knights will be spending two weekend's this Fall outside the ABC Liquor Store at Northpoint Reston. We will be in our traditional yellow aprons and handing out our tootsie rolls. Please stop by and donate!
YOUTH ACTIVITIES: Come join us at our annual Soccer Challenge (September), Keep Christ in Christmas Poster Contest (November), and Basketball Free Throw Championships (October and February). Also, February 2023 kicks off scholarship season for those high school seniors looking to enter college the following fall.
Keep Praying for the Canonization of Father Michael J. McGivney, founder of the Knights of Columbus in 1882, who was beatified by proclamation of Pope Francis on October 31, 2020.
June 2022 Knight of the Month: Sir Knight Mark Falcon
June 2022 Knights' Family of the Month: Sir Knight Don & Mary Budrejko

Congratulations to Padre Pio Council 10754 on the following Supreme and State Awards:
- 2021-22 Supreme's Columbian Award for our Council's successful Program Activities.
- 2021-22 Virginia State Deputy Award for attaining all state-set goals and showcasing the accomplishments and activities of our Knights and other parishioners
- 2021-22 Virginia State Council's Faith-in-Action Outstanding Faith Activity Award. This three day exhibit featured the works of Blessed Carlo Acutis, colloquially referred to as the Millennial Saint. Carlo spent his short 15 years on Earth documenting and cataloging Eucharist miracles throughout the world and how this was due to the Real Presence of Jesus Christ in the Holy Eucharist. We viewed this as a special opportunity to engage our parish youths and to present a positive role model for them to emulate. We also used this as an opportunity for the Knights to bring an entire congregation together with over 100 volunteers (many who were not Knights) to serve.
Youth Awards:
- 2021-22 Virginia State Council's Young Man of the Year: Michael Christov
- 2021-22 Padre Pio Council's Young Man of the Year: Michael Christov
- 2021-22 Padre Pio Council's Young Woman of the Year: Adele White
- 2022 Father Michael J. Bader Scholarship Recipients (only nine recipients throughout the entire Commonwealth of Virginia):
- Adele White
- Brother Knight Hans Guenther
OUR NEXT BUSINESS MEETING (OPEN ONLY TO KNIGHTS IN GOOD STANDING) WILL BE A HYBRID VIRTUAL VIA ZOOM/IN-PERSON (AT PADRE PIO HALL) MEETING ON TUESDAY, AUGUST 2, 2022, AT 7:30PM.
OUR NEXT SOCIAL MEETING (OPEN TO KNIGHTS AND ALL OTHERS) WILL BE OUR COMBINED DEGREE CEREMONIAL (NOTED ABOVE) IN THE CHURCH AND WILL TAKE PLACE ON TUESDAY, JULY 19, 2022, AT 7:30PM. ALL PARISHIONERS AND GUESTS ARE WELCOME TO JOIN US.

OUR NEXT FOURTH DEGREE ASSEMBLY MEETING (OPEN ONLY TO SIR KNIGHTS IN GOOD STANDING) WILL BE A WILL BE A HYBRID VIRTUAL VIA ZOOM/IN-PERSON (AT CHRIST THE REDEEMER CHURCH) MEETING ON WEDNESDAY, JULY 20, 2022, AT 7:30PM
P.S.: check us out on Facebook at @KoC10754PadrePio.