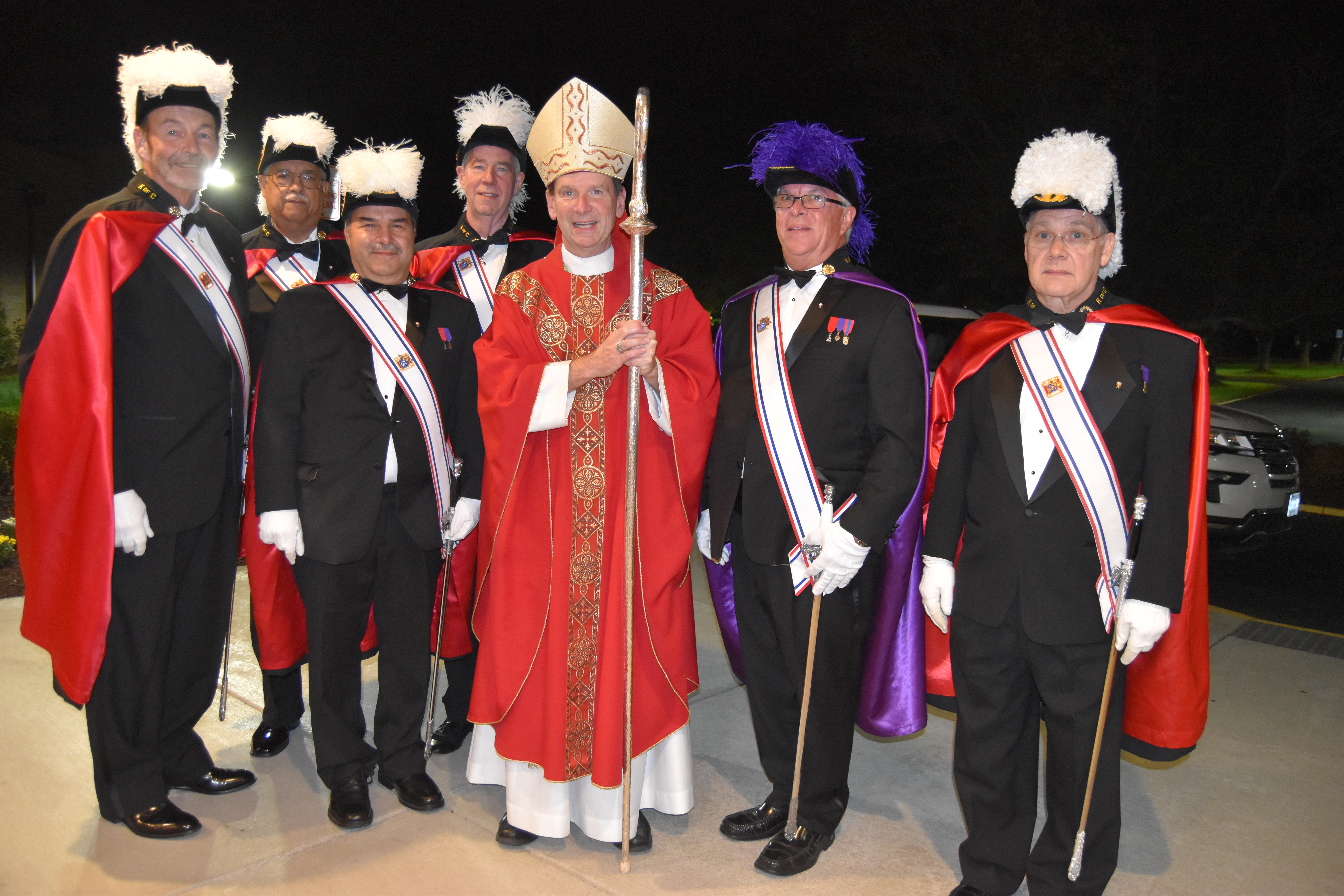 Padre Pio Council 10754 is one of approximately 16,000 local councils of the Knights of Columbus around the world. Our Council was chartered in November 1991, under Grand Knight Tom McKeown and chaplain Fr. Jerome Fasano. We serve the Roman Catholic parish of St. Catherine of Siena, which is located at 1020 Springvale Road in Great Falls, Virginia. We typically meet at 7:30 p.m. on the first and third Tuesdays of each month at either Padre Pio Hall or Bishop Justs Hall; members are encouraged to arrive at 7:15 p.m. to pray the Rosary. We are part of the 31st District of the Virginia State Council of the Knights of Columbus, and our Fourth Degree members are part of St. Elizabeth Bayley Seton Assembly 1781, which meets monthly at St. Joseph's Catholic Church in Herndon, Virginia.
Council activities include monthly Pancake Breakfasts hosted after the 8am and 10am Sunday masses at Bishop Justs Hall (except the summer months of June, July and August); Lenten Fish Dinners hosted each Friday evening during Lent (except Good Friday), one hour prior to Stations of the Cross; our annual Christmas Tree sale, which raises money for our charitable activities; Religiously themed Christmas Card sales, part of our Keep Christ in Christmas campaign; and various social and parish activities sponsored by the Council throughout the year.
Through the Knights' four core principles of charity, unity, fraternity, and patriotism, we endeavor to serve our pastor, parish, community, and nation. To learn more about the Knights please reach out to our Grand Knight (Ernie Piro at 703.395.3723, epiro10754@yahoo.com, or via LinkedIn or Facebook) or the Knight's Supreme website http://www.kofc.org/un/en/todays-knights/about-us.html
If in need of life insurance, consider purchasing through the Knights of Columbus. Contact Dan Garrigan, FIC, at 703-494-0967 or via daniel.garrigan@kofc.org.
August 2020 Knight of the Month: David F. Livaudais
August 2020 Knights' Family of the Month: David and Kim Livaudais
OUR NEXT MEETING WILL BE OUR ZOOM VIRTUAL SOCIAL MEETING ON TUESDAY 8/18/20 AT 7:30PM