Gentlemen, interested in becoming a Knight? Click here and register. Someone will contact you.
Have a question? Contact the Knights and we'll get back to you. Click here.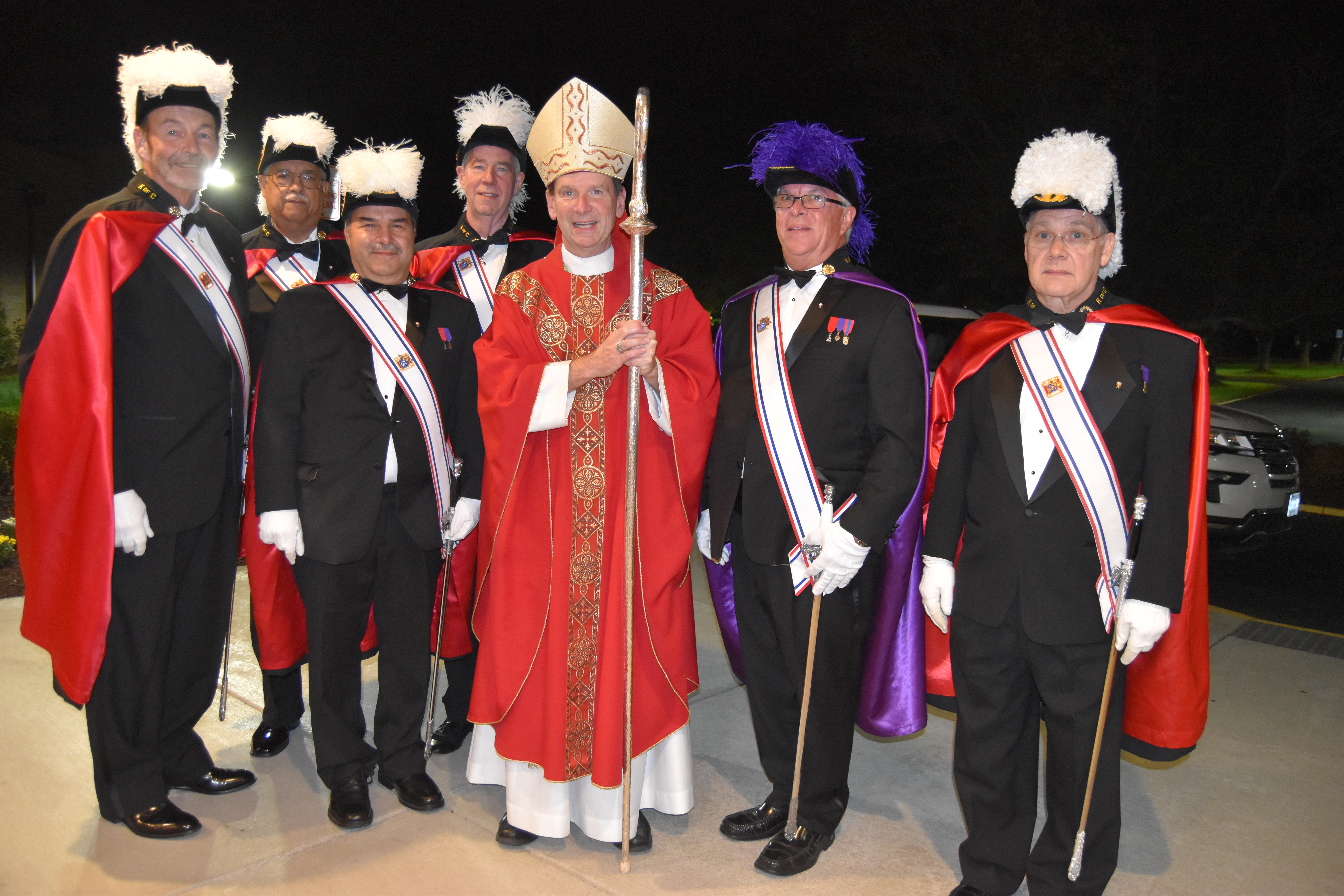 Knights of Columbus: Padre Pio Council #10754
Padre Pio Council #10754 is one of approximately 16,000 local councils of the Knights of Columbus around the world. Our Council was chartered in November 1991 and we serve the Roman Catholic parish of St. Catherine of Siena, which is located at 1020 Springvale Road in Great Falls, Virginia. We typically meet at 7:30 p.m. on the first and third Tuesdays of each month at either Padre Pio Hall or Bishop Justs Hall; members are encouraged to arrive at 7:15 p.m. to pray the Rosary. We are part of the 31st District of the Virginia State Council of the Knights of Columbus, and our Fourth Degree members are part of St. Elizabeth Bayley Seton Assembly 1781, which meets monthly at St. Joseph's Catholic Church in Herndon, Virginia.
Council activities include monthly Pancake Breakfasts hosted after the 8am and 10am Sunday masses at Bishop Justs Hall (except the summer months of June, July and August); Lenten Fish Dinners hosted each Friday evening during Lent (except Good Friday), one hour prior to Stations of the Cross; our annual Christmas Tree sale, which raises money for our charitable activities; Religiously themed Christmas Card sales, part of our Keep Christ in Christmas campaign; and various social and parish activities sponsored by the Council throughout the year.
Through the Knights' four core principles of charity, unity, fraternity, and patriotism, we endeavor to serve our pastor, parish, community, and nation. To learn more about the Knights please reach out to our Grand Knight (Ernie Piro at 703.395.3723, epiro10754@yahoo.com, or via LinkedIn or Facebook) or the Knight's Supreme website http://www.kofc.org/un/en/todays-knights/about-us.html
HOW TO BECOME A KNIGHT?
Now, there are several alternative ways to become a Knight and each method is so simple (just 30 minutes of your time) despite COVID-19.
Attend a local in-person ceremony (also, contact the Grand Knight, see his contact info, below in advance). There are two sessions coming up:

Monday, October 26th, 7:30 at Christ the Redeemer.
Thursday October 29th, 7:30 at Our Lady of Hope.

Attend a virtual ceremonial through the VA State Council via Windstream:
Attend an "On Demand" session via the KoC Supreme Council (available in English, Spanish, and French) over the internet and pay the nominal entry fee (fee is waived if completed by 12/31/2020 by using the McGivney2020 discount code). On Demand Registration Link: https://goto.webcasts.com/starthere.jsp?ei=1359367&tp_key=9eb24b3a45&sti=invitation0825
When signing up for online option #2 or 3, indicate Parish as "St. Catherine of Siena" and Council as "10754" and once done with the ceremony contact Grand Knight Ernie Piro at epiro10754@yahoo.com or 703.395.3723 so we can follow up to process you as a member of our Council.
If you are NOT from the Northern Virginia area (i.e., visiting) and wish to be transferred to a Council closer to home, we will help you with the transfer process, although we always prefer Knights staying with our Council.
NEED LIFE INSURANCE? Consider purchasing through the Knights of Columbus. Contact Dan Garrigan, FIC, at 703-494-0967 or via daniel.garrigan@kofc.org.
FREE SEMINARS: Our Council will be hosting several FREE seminar presentations via the ZOOM virtual platform. Brother Knights and all other parishioners are cordially invited. RSVP is required
10/26/20 at 7:30pm: SAVE THE DATE: Fraternal Benefit Night Seminar via ZOOM. Registration information to follow shortly.
OTHER UPCOMING EVENTS:
10/18/20 at 5:30pm: Outdoor Rosary Prayer Service and Outdoor Movie Night. See more on the church website main page.
10/20/20 at 7:30pm: Life as a Catholic Seminarian via Zoom Online Platform. Presenter will be Brother Knight and Seminarian Anson Groves. Register by email epiro10754@yahoo.com. Zoom link: https://us02web.zoom.us/j/86933249398?pwd=UGV5V2J2RE5hbi9Jd0t0L2J5RjhEUT09
10/07/20 from 10am to 2pm. St. Lucy Food Drive in church parking lot.
Congratulations to the 48 young ladies and gentlemen of our parish on their receiving the Sacrament of Confirmation as conferred by Father Pokorsky during September 2020. The Knights salute your great accomplishment and milestone as Catholics!
Keep Christ In Christmas by sending religious cards. Knights of Columbus will be selling cards after all the Saturday evening and Sunday Masses now into December.
October 2020 Knight of the Month: Brother Knight John Eschmann
October 2020 Knights' Family of the Month: The Family of Brother Knight Patrick Smith
OUR NEXT MEETING WILL BE OUR ZOOM VIRTUAL SOCIAL MEETING ON TUESDAY 10/20/20 AT 7:30PM