Updated: March 31st, 2020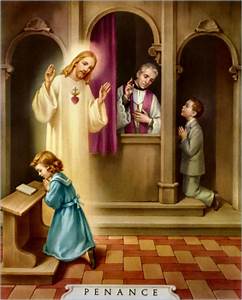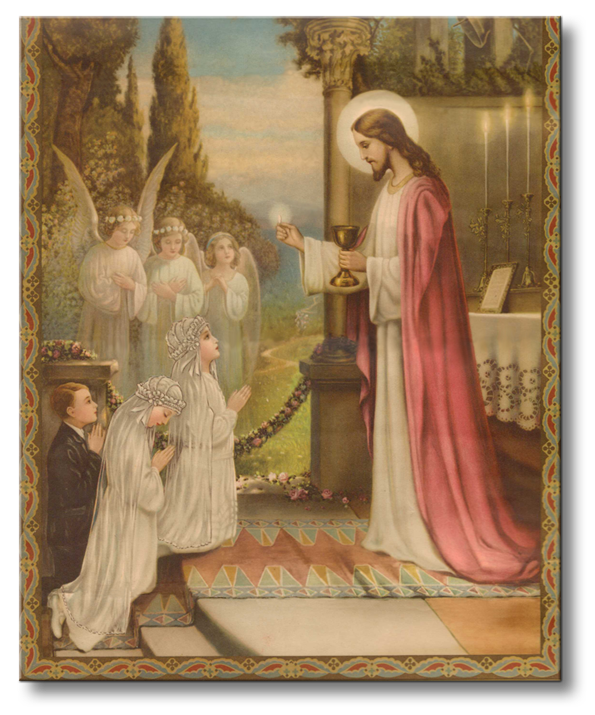 "If the angels could be jealous of men, they would be for one reason: Holy Communion." - Saint Maximillian Kolbe, Feast Day: August 14
A LETTER FROM THE VATICAN: FIRST PENANCE, FIRST COMMUNION
Catechism of the Catholic Church
THE SACRAMENT OF PENANCE AND RECONCILIATION
CCC 1422 "Those who approach the sacrament of Penance obtain pardon from God's mercy for the offense committed against him, and are, at the same time, reconciled with the Church which they have wounded by their sins and which by charity, by example, and by prayer labors for their conversion."4
WHAT IS THIS SACRAMENT CALLED?
CCC 1423 It is called the sacrament of conversion because it makes sacramentally present Jesus' call to conversion, the first step in returning to the Father5 from whom one has strayed by sin.
It is called the sacrament of Penance since it consecrates the Christian sinner's personal and ecclesial steps of conversion, penance, and satisfaction.
CCC 1424 It is called the sacrament of confession since the disclosure or confession of sins to a priest is an essential element of this sacrament. In a profound sense, it is also a "confession" - acknowledgment and praise - of the holiness of God and of his mercy toward sinful man.
It is called the sacrament of forgiveness since by the priest's sacramental absolution God grants the penitent "pardon and peace."6
It is called the sacrament of Reconciliation because it imparts to the sinner the live of God who reconciles: "Be reconciled to God."7 He who lives by God's merciful love is ready to respond to the Lord's call: "Go; first be reconciled to your brother."8
____________________________
Sacrament Preparation
Sacrament preparation at Saint Catherine of Siena is a two-year process. Preparation for the Sacraments of First Penance and First Holy Communion occurs during the first and second grades. As a rule, First Communion takes place after the age of 7, the customary "age of reason". Hence, children to receive First Holy Communion must be 7 years of age by the end of the final month of the school year (June).
If your child has not been baptized, please contact us. We are happy to accommodate him or her, according to individual needs. If one or both parents have not received a sacrament, or would like to learn more about the Catholic Faith, we are happy to help, also.
First Penance and First Holy Communion
Students who have completed formal catechesis in the 1st and 2nd grade years are candidates to receive First Penance and First Holy Communion in the spring of 2020. First Holy Communion is planned for Sunday, May 17 at the noon Mass.
Details and other important information will be discussed at a parent meeting on February 24, 2020 after the first Parent Series session (see details below). Please also check the weekly bulletins for updates and further details.
PARENT SERIES:
All parents of children who are preparing to receive the Sacraments of First Penance and First Holy Communion in the spring are asked to attend the upcoming parent series to be held during Lent. After you drop off your children for the 5 pm class, please join us in the parish hall to learn more about how God wants to welcome all to this sacrament of healing that many don't understand well. We hope it will give you better insight into what the children are learning in the classrooms, and help us all better discuss this sacrament with them.
"Forgiven: the Transforming Power of Confession"
February 24; March 2, 9, 16 and 23
5:00 to 6:15 pm
Paperwork:
A First Holy Communion Data Form and recently issued Baptismal certificate is due for each child who will receive the Sacraments of First Penance and First Holy Communion in the spring of 2020. Forms are available under the "Important Forms" tab of this website.
First Penance Details:
Children should wear "Sunday attire" for this special occasion, to show respect for the great value of the Sacrament. No athletic attire, please.
Please arrive early and sit with your children in the designated pews in the front of the church. Father will speak with the children during his homily.
Confessions will be heard after Mass.
Parents are welcomed and encouraged to receive the Sacrament, also.
A light breakfast reception will be held in Bishop Justs Hall afterward. Families are welcomed..
Required Rehearsal for First Holy Communion
Thursday prior to First Communion, May 14, 2020, 6:00 – 7:00 pm
Children should go directly to their catechists in Bishop Justs Hall.
Parents are welcome to sit in the back of the church during the rehearsal.
Children do not need to dress up for this event.
Children will be lined up in order of height.
If they will wear shoes with heels for First Holy Communion, please have them wear these shoes to the rehearsal.
We will practice their procession into the church, their seating, their walking up for Communion, and their exit from the church.
The girls will sit together on the left side of the church facing the altar (Blessed Mother side) and the boys will sit on the right (Saint Joseph side).
We will most likely practice twice in order for children to feel comfortable. It is most important that they feel calm on the day of their First Holy Communion at the Holy Sacrifice of the Mass and be able to focus that day on what is most important... their first reception of Our Lord...Body, Blood, Soul and Divinity.
First Holy Communion
May 17, 2020 at the Noon Mass
Please be punctual so that we have time for group and individual photos with the professional photographer and lining up of children for their procession into the church.
Please use the rear entrance to the school at the fence gate. You will be given portrait details at this time, depending on the weather.
All pre-Sacrament photography must end by 11:30 am so that children will feel calm and ready to focus at Mass.
Parents are encouraged to find their seats in the church at this time, after the 10:00 am Mass has ended.
During the First Holy Communion Mass, no photography is permitted in the sanctuary. Of course, there will be ample opportunities to take pictures after Mass at the reception. Please make sure that all guests and extended family understand this policy. An announcement will also be made prior to Mass.
At the end of Mass, children will process out of the church and will go to Bishop Justs Hall where they will meet you.
A First Holy Communion Lunch Reception will be held after the First Holy Communion Mass. Parents from the first- and third-grade classes will help host this event. In year's past, families have found this reception to be a nice bridge to celebrations later in the day.