Updated 9.26.23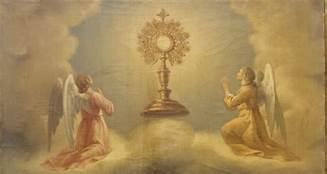 The Feast of Corpus Christi (Feast of the Body and Blood of Our Lord) was celebrated on June 11, 2023, with the First Communicants joining in solemn procession.
---
The next Pancake Breakfast will be in October. Bulletin announcements will be forthcoming.
---
SCAM EMAIL ALERT -- WE HAVE ANOTHER ROUND OF SCAM EMAILS. THE LATEST IS FROM "OFFICEEMAILSSS001@GMAIL.COM". THE SCAMMERS ASK FOR GIFT CARDS. WE NEVER ASK FOR ANYTHING FUNDS OR GIFT CARDS BY EMAIL. PLEASE DELETE!
A bad guy dummied up a phony email from the Pastor. Beware!