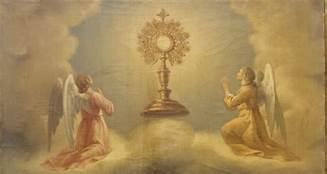 The Feast of Corpus Christi (Feast of the Body and Blood of Our Lord) will be celebrated on June 11, 2023. After the noon Mass our parish family, with the First Communicants, joined together in solemn procession.
All First Communicants are asked to wear their First Holy Communion attire to Mass on this day and participate in the solemn procession.
This is an optional ceremony, but we highly encourage all the First Communicants to participate in this celebration of our Lord's Body and Blood. More details will follow as the date gets closer.