Updated: August, 2023
There will be two special meeings held prior to the Sacrament of First Holy Communion
Wednesday, February 7 (Parents Only) - First Holy Communion meeting with the Pastor, 6:00 pm-7:15 pm in Bishop Just Hall
Wednesday, March 13 (Parent/Child) First Penance meeting with the Pastor 6:00pm to 7:00pm in Bishop Just Hall
First Holy Communion Registration and Paperwork Deadlines:
The use of "courtesy" refers to your attitude in assisting CCD office personnel in processing the necessary paperwork. The absolute deadlines are important -- on Father Pokorsky's part -- to express his courtesy to the administrative staff.
March 1: Courtesy registration deadline First Holy Communion and First Confession. Fill out the First Holy Communion Data Form:
<script src="https://forms.ministryforms.net/embed.aspx?formId=0b46b9e2-4205-476e-9f38-e47e26747e19"></script>
Saturday, March 16: First Confessions at 9 am following the 8:30 am Mass.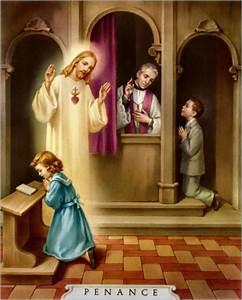 April 5: Courtesy deadline for First Holy Communion paperwork above all the Baptismal Certificate.
April 19: Absolute registration deadline First Holy Communion and First Confession.
Fill out the First Holy Communion data form:
https://forms.ministryforms.net/viewForm.aspx?formId=b64ecb6d-15b6-47fe-bd1f-215eaa20c78f
May 1: Absolute deadline (two weeks before FHC and very tight for administrative purposes) for First Holy Communion paperwork above all Baptismal Certificate. (Miss this date, and your child will receive FHC next year.)
Thursday, May 9: First Holy Communion Practice (Parent/Child) - 6:00pm
Sunday May 12: First Holy Communion at Noon Mass.
First Holy Communion Mass Dress Guidelines
Boys:
•A suit or blazer jacket and dress pants. Khaki pants and a navy blazer are acceptable.
•Dress shirt with tie
•Dark socks and dress shoes
•Make sure the boys are comfortable in the shoes they will wear. If they wear new shoes, make sure they have worn them enough that they are able to walk and not slip.
Girls:
•A white dress that is appropriate and modest in length. No sleeveless dresses, spaghetti straps or low necklines, please.
•If you choose a dress without sleeves, please accessorize the dress with a white sweater to cover shoulders. This may be quite practical given how cold the church can be on a warm day in May!
•White veil. Flowers and ribbons are fine, but should have a veil attached.
•Shop early for veils. Stores and online retailers will run out. Retail recommendations include Catholic sites, JC Penney or Burlington Coat Factory.
•Gloves, purses or prayer books may not be carried into Mass.
•White dress shoes.
•Wise advice from veteran Moms: Please make sure that the girls are comfortable in their shoes. Try them on at least a week in advance and make sure they can walk in them comfortably for a few hours with whatever socks or stockings they will wear on the day of First Holy Communion. (Shoes with heels should be worn to rehearsal.)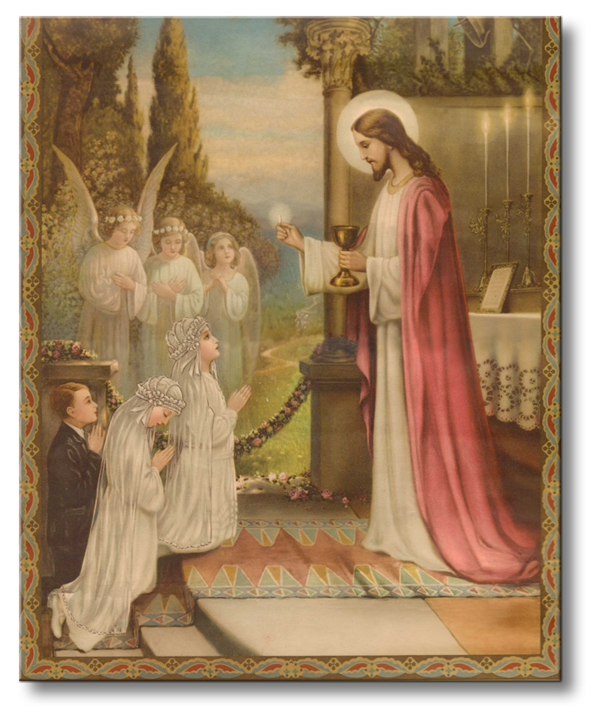 "If the angels could be jealous of men, they would be for one reason: Holy Communion." - Saint Maximillian Kolbe, Feast Day: August 14
A LETTER FROM THE VATICAN: FIRST PENANCE, FIRST COMMUNION
The Holy Father Speaks to Children: Your First Holy Communion
Catechism of the Catholic Church
THE SACRAMENT OF PENANCE AND RECONCILIATION
CCC 1422 "Those who approach the sacrament of Penance obtain pardon from God's mercy for the offense committed against him, and are, at the same time, reconciled with the Church which they have wounded by their sins and which by charity, by example, and by prayer labors for their conversion."4
WHAT IS THIS SACRAMENT CALLED?
CCC 1423 It is called the sacrament of conversion because it makes sacramentally present Jesus' call to conversion, the first step in returning to the Father5 from whom one has strayed by sin.
It is called the sacrament of Penance since it consecrates the Christian sinner's personal and ecclesial steps of conversion, penance, and satisfaction.
CCC 1424 It is called the sacrament of confession since the disclosure or confession of sins to a priest is an essential element of this sacrament. In a profound sense, it is also a "confession" - acknowledgment and praise - of the holiness of God and of his mercy toward sinful man.
It is called the sacrament of forgiveness since by the priest's sacramental absolution God grants the penitent "pardon and peace."6
It is called the sacrament of Reconciliation because it imparts to the sinner the live of God who reconciles: "Be reconciled to God."7 He who lives by God's merciful love is ready to respond to the Lord's call: "Go; first be reconciled to your brother."8
____________________________
Sacrament Preparation
Sacrament preparation at Saint Catherine of Siena is a two-year process. Preparation for the Sacraments of First Penance and First Holy Communion occurs during the first and second grades. As a rule, First Communion takes place after the age of 7, the customary "age of reason". Hence, children receiving First Holy Communion must be 7 years of age by the end of the final month of the school year (June).
If your child has not been baptized, please contact us. We are happy to accommodate him or her, according to individual needs. If one or both parents have not received a sacrament or would like to learn more about the Catholic Faith, we are happy to help, also.
First Penance and First Holy Communion
Students who have completed formal catechesis in the 1st and 2nd-grade years are candidates to receive First Penance and First Holy Communion in the spring of 2023. First Holy Communion is planned for Sunday, May 12, 2024 at the noon Mass.
Paperwork:
A First Holy Communion Data Form and a recently issued Baptismal certificate are due for each child who will receive the Sacraments of First Penance and First Holy Communion in the spring of 2023. (See above for details and deadlines).
First Penance Details (Saturday, March 16, 2024 at 9:00am):
Children should wear "Sunday attire" for this special occasion, to show respect for the great value of the Sacrament. No athletic attire, please.
Please arrive early and sit with your children in the designated pews in the front of the church. Father will speak with the children during his homily.
Confessions will be heard after Mass.
Parents are welcomed and encouraged to receive the Sacrament, also.
Required Rehearsal for First Holy Communion
Thursday, May 9, from 6:00 – 7:00 pm
Children do not need to dress up for this event.
We will most likely practice twice in order for children to feel comfortable. It is most important that they feel calm on the day of their First Holy Communion at the Holy Sacrifice of the Mass and be able to focus that day on what is most important... their first reception of Our Lord...Body, Blood, Soul and Divinity.
First Holy Communion
Sunday, May 12, 2024 at the Noon Mass
During the First Holy Communion Mass, no photography is permitted in the sanctuary. Of course, there will be ample opportunities to take pictures after Mass at the reception. Please make sure that all guests and extended family understand this policy. An announcement will also be made prior to Mass.